"Raining Raining" / Nick Lowe
Well, it's raining outside, so I guess it's officially spring. I've just come in from the park, walking my dog, and the song "Rhythm of the Rain" -- you know, that old 1962 hit by the Cascades -- popped into my brain. It doesn't take much to drum this one up: "Listen to the rhythm of the falling rain / Telling me just what a fool I've been," with that downward skipping cha-cha-cha melody, perfectly imitating pattering raindrops. It's lovesick and saccharine and a real ear worm.
But when I sat down to my computer, my eyes fell on the new Nick Lowe box set that just arrived yesterday (thank you, YepRoc, for filling my order early!) and I
got diverted.
Titled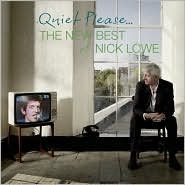 Quiet Please: The
New Best of Nick
Lowe,
it's a loooong overdue compilation, updating the old
Best of Basher
by adding all the marvelous stuff Nick's done in the 1990s and beyond. Considering how much of Nick's finest work has been out of print (criminal, really), it's a breath of fresh air to have this now.
"Raining Raining" comes from his as-yet-to-be-reissued (cross your fingers)
Nick the Knife,
originally released in 1982. The liner notes are vague about who played on this track -- was it Bobby Irwin or Terry Williams drumming? Martin Belmont or Billy Bremner on guitar? That nifty bit of Hammond organ in the instrumental break could have been Paul Carrack or Nick's then-wife Carlene Carter or even Steve Nieve (I'm betting on Carrack). Given the players' now-hazy memories of the time, we may never know.
It's such an unassuming track, I'm delighted to see that it made it onto this compilation -- that just shows how smart the selection was. I love the loping rhythm of this piece, which was already heading toward the country-soul sound Nick favors nowadays. The central conceit's brilliantly simple -- "It's sunny and dry, with not one cloud in the sky / But here inside it's raining." The rain's all in the singer's head, or rather in his heart, presumably because his girl has left him. In fact, though, he never explains why -- you've got to read between the lines. That's classy songwriting.
In each of the three verses, the first two lines contrast the fine weather to his internal misery; lines three and four spy on happy lovers doing typical loverly things -- they "go for a stroll, dressed up in summery clothes"; they "walk around without one foot on the ground"; they're "out back intent on sharing a snack." I can just imagine this doleful guy, peering furtively out the window, groaning as he watches a blissful couple popping strawberries in each other's mouths. It slams right into his gut: "But here comes the crack, / And it's raining."
Okay, maybe his girl didn't leave him. Maybe he's just lonely, longing to find true love. Maybe they're separated by forces beyond their control (away on tour, maybe?). Set up whatever scenario you need. The main thing is the misery, and you can feel it throbbing throughout this song, still so raw it's inarticulate. "It's raining so hard, oh lord I wish it would stop / Raining, raining / Raining" -- that's all he can say. No poetry, just dull dumb pain.
And yet Nick, god bless him, doesn't overdo it -- he stops short of self-pity, doesn't get all morose, doesn't rail against fate. The tempo's easy, the guitar riffs relatively chipper (the intro teasingly similar to "What's Shakin' On the Hill"), and clubby backing harmonies keep him company. Don't worry, this guy's not gonna off himself for love. But today, this moment, he's depressed, and out of sync with the world.
Back in the 1960s, the Cascades went for the easy nature-mirrors-my-life metaphor; Nick Lowe's rainfall is something subtler, and whole lot more interesting.
I gotta love this man.
Raining Raining sampler
NOTE: This mp3 link will start working on March 17th when the album's released.
BTW, someday I've really got to figure out out how to post mp3s . . . .